Hello everyone, I am Maryella, the designer of this web site, and the creator of Maryella's Kraft Korner. I have enjoyed making crafts of all types since my grandmother and mother taught me as a child.
I specialize in plastic canvas, knitting, and crocheting. I also make custom wedding favors out of glass flowers.
I am the mother of a beautiful young boy, and because of his existence in my life, I have decided to create this business. My way of teaching him how easy it is to turn your dreams into reality.
Please contact me today to order your hand crafted, specially designed presents.
This is a brand new web site created 02/13/04
02/13/2004 Created the website for the first time.
02/14/2004 Will add pictures of my crafts by category.
Welcome to my craft world.
As I add designs, photos will be added to the site. I have also included some of my specialty items that must be custom ordered.
Start thinking about, Easter, Mother's Day, Birthdays and early Christmas shopping, order today!
Contact me with any questions you might have!

Please contact me to ask questions about my crafts, purchase items, or just volunteer suggestions. Every comment is welcome.
Search Engine Optimization and Free Submission
Candyland Crafts: A full line supplier of Cake Decorating, Candy Making and Soap Making products for the do-it-yourselfer. Over 10,000 products. Mold catalog available.


Member of Website Listing Organization. Find our listing in the Art & Crafts Section.

Click here to submit your site to the search engines for free!
WedNet - The Internet's Premier Wedding Planning Site. Don't forget to sign up for WedNews, WedNet's FREE monthly wedding planning newsletter

Wedding invitations as low as 55 cents each!
We have wedding invitations of all styles and types. At 25 Free Wedding Invitations, we carry thousands of wedding invitations to suit your matrimonial requirements. See your wording, wedding stationery, font choice and ink color then see your proof all online tonight. all from www.weddinginvitations.be Art By Star - An excellent resource for art!
Flowers
URL.biz - Shopping Vote for my Web Site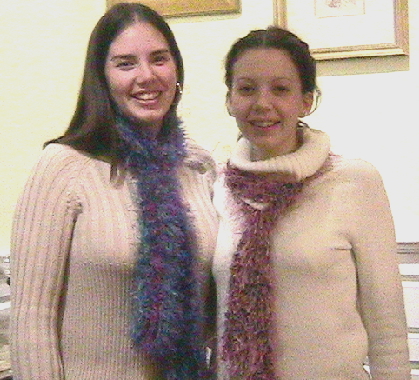 Fur like Scarves for every occasion. Every Color and Every Size!
My beautiful nieces are modeling two of my favorite custom designs, fun fur multi color blues with blue mix and spice with pink flutter.
Purchase one today. They are light weight, beautiful, and look like fur, feel like fur. But they must be hand washed and air dried.
Price: 25.00 for BOA style
35.00 for wider/longer designs.
45.00 for shawls
maryellaskraftkorner@yahoo.com